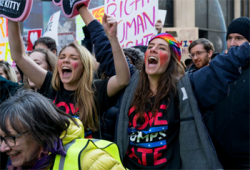 [W]hat I saw and took part in at the rally was a weaving together of civil rights and Black Lives Matter (five mothers whose children were killed by police where there and we did a call and response with each of them: "Travon Martin!" "Say his name!"). to meld my peer group-- middle-aged and older white women-- to the struggle against racism, xenophobia, and all those other human rights struggles made a profound impression on me....
I think there is a new spirit here that is beyond dogmas, political or religious, and we will find our way through to economic justice by drawing upon the wisdom, energy, and work of those of us in the movement whose interest is in economics.
| | | | |
| --- | --- | --- | --- |
| Size: 1,360.60KB | Post Date: Feb 3, 2017 | ← Back to The Utopian Vol. 16.2 - 2017 | |
To place a comment you must apply for an account. After you fill and submit your application to us, our editors will review for approval. Also Blogs posted have to be first be approved by our editors. Please Click Here to Sign In or for our account application form Click Here.