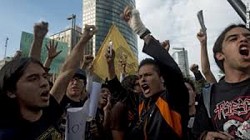 The cure for privatization is not to increase the power and authority of the state (be it by regulation, taxation, or nationalization) but to dismantle the state (the standing army and the cops; the nightmare bureaucracies) and to reorganize society, cooperatively and democratically from the bottom up, locally based and with emphasis on mutual aid. We are confident that new mass movements from below will rise again, in a massive surge, as did Occupy in 2011. And we hope and anticipate that, like Occupy (in its initial stages, at least), these movements will reject reformism and statism.
| | | | |
| --- | --- | --- | --- |
| Size: 74.72KB | Post Date: Sep 29, 2023 | ← Back to The Utopian Vol. 18.3 - 2019 | |
To place a comment you must apply for an account. After you fill and submit your application to us, our editors will review for approval. Also Blogs posted have to be first be approved by our editors. Please Click Here to Sign In or for our account application form Click Here.