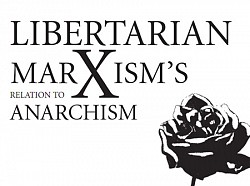 The current world-wide revival of anarchism is premised on the decline of Marxism. Yet there remains a strand of Marxism (libertarian or autonomist Marxism) to which anarchists often feel close and whose followers often express a closeness to anarchism. Its libertarian-democratic, humanist, and anti-statist qualities permit anarchists to use valuable aspects of Marxism (such as the economic analysis or the theory of class struggle). Yet it still contains the main weaknesses of Marxism. And in certain ways it has the same weaknesses of much of anarchism, rather than being an alternative. This version of Marxism has much to offer anarchists but remains fundamentally flawed, as I will argue.
| | | | |
| --- | --- | --- | --- |
| Size: 2,419.12KB | Post Date: Aug 2, 2004 | ← Back to The Utopian Vol. 4 - 2004 | |
To place a comment you must apply for an account. After you fill and submit your application to us, our editors will review for approval. Also Blogs posted have to be first be approved by our editors. Please Click Here to Sign In or for our account application form Click Here.