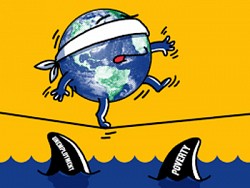 Haven't we been here before? I mean: no competition; stagnation; da-da-da-da -- then under the auspices of Messrs. Baran and Sweezy. Then whoops -- along came the microelectronics revolution, and small fry starting up businesses in their homes and garages that swelled to gigantic size. Some -- e.g., Apple, with its world-leading stock market valuation, are now the very monsters now cited as strangling competition. I don't think that we're witnessing the end of history -- i.e., I anticipate that there will be new breakthroughs (technological and otherwise) and renewed growth (although likely there will be one or more bubble burstings in the interim).
| | | | |
| --- | --- | --- | --- |
| Size: 384.38KB | Post Date: Mar 19, 2018 | ← Back to The Utopian Vol. 17.2 - 2018 | |
To place a comment you must apply for an account. After you fill and submit your application to us, our editors will review for approval. Also Blogs posted have to be first be approved by our editors. Please Click Here to Sign In or for our account application form Click Here.