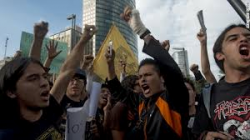 This paradoxical situation – a society in obvious decay but without a mass movement to challenge it fundamentally – is, we hope, coming to an end. As new movements develop, liberal-reform and Marxist ideas will show new life, but so have utopian and libertarian ideas. We work with this in mind. Among other things, revolutionary anarchist and libertarian socialist theory very much needs further development, including its critique of Marxism, and its ideas about mass struggles, democratic and socialist theory, and popular culture. And we need to reinvigorate the ideals of anarchism/libertarian socialism and the threads in today's world that may, if we can find them and follow them, lead to a future worth dying for and living in.
| | | | |
| --- | --- | --- | --- |
| Size: 119.30KB | Post Date: Mar 19, 2018 | ← Back to The Utopian Vol. 17.2 - 2018 | |
To place a comment you must apply for an account. After you fill and submit your application to us, our editors will review for approval. Also Blogs posted have to be first be approved by our editors. Please Click Here to Sign In or for our account application form Click Here.