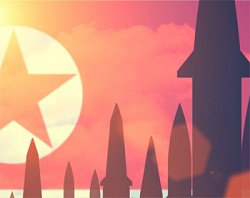 I detest nuclear weapons and believe they should be abolished as soon as possible. They seem to me to epitomize the worst aspects of modern technology. Based on the wonders of contemporary scientific knowledge and technical skill, they are good for only one purpose – destruction, and on a massive scale – and have no redeeming qualities whatsoever....
It is with this as background that I make clear that I support the right of North Korea (and Iran, I might add) to have nuclear weapons and the means to launch them, and I oppose the efforts – via embargoes, sanctions, or threats of military attack - of other states, particularly those who already possess them, to force them to destroy them. Either all nations have the right to have nuclear weapons or no nation should have the right to possess them. Abolish them entirely or allow all states to possess them!
| | | | |
| --- | --- | --- | --- |
| Size: 329.90KB | Post Date: Aug 5, 2017 | ← Back to The Utopian Vol. 16.7 - 2017 | |
To place a comment you must apply for an account. After you fill and submit your application to us, our editors will review for approval. Also Blogs posted have to be first be approved by our editors. Please Click Here to Sign In or for our account application form Click Here.