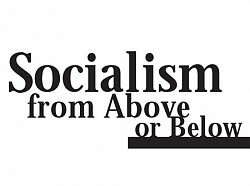 The quotation at the right is from the beginning of "The Two Souls of Socialism," by Hal Draper (1992), published as a pamphlet in 1966. Draper's editor notes, "Its political impact on a generation of socialists in the United States and Great Britain has been considerable." (Haberkern, 1992, p. xvii) It influenced that wing of Trotskyism which rejected Trotsky's belief that the Soviet Union under Stalin (and after) was some sort of "workers' state." Instead, these semi-Trotskyists held (correctly) that the U.S.S.R. had developed a bureaucratic ruling class which collectively exploited the workers.
| | | | |
| --- | --- | --- | --- |
| Size: 671.03KB | Post Date: Nov 5, 2002 | ← Back to The Utopian Vol. 3 - 2002 | |
To place a comment you must apply for an account. After you fill and submit your application to us, our editors will review for approval. Also Blogs posted have to be first be approved by our editors. Please Click Here to Sign In or for our account application form Click Here.