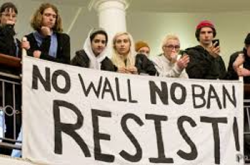 At least in the circles I am a part of, everyone is very depressed and pessimistic, mostly expecting defeats. (Everyone is in their 30s, still active in some form) Protests are expected, but nothing on a scale or militancy to stop Trump's policies....
[In response] I think there are reasons for at least guarded optimism vis a vis the existing anti-Trump resistance. I think it has momentum and is likely to last, at least for a while. When people see what the Republicans have in store to amend or replace the ACA, I believe even more people will get angry, and at least some of them will get active.... Also, the ruling elite is not united behind Trump. Quite the contrary, many sectors are opposed to significant facets of his program, e.g., immigration, import taxes, tearing up trade deals, attack on transgender right, etc.
| | | | |
| --- | --- | --- | --- |
| Size: 60.77KB | Post Date: Mar 10, 2017 | ← Back to The Utopian Vol. 16.3 - 2017 | |
To place a comment you must apply for an account. After you fill and submit your application to us, our editors will review for approval. Also Blogs posted have to be first be approved by our editors. Please Click Here to Sign In or for our account application form Click Here.