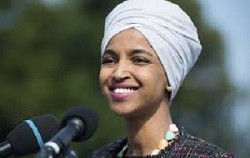 Omar's comments and the controversy that ensued served to muddy the waters still further and to allow those who wish to tar all defenders of the Palestinian cause with the brush of anti-Semitism to continue to do so. I am prepared to accept that Ihlan Omar is not personally anti-Semitic. However, there is little doubt in my mind that her tweets and other comments promoted anti-Semitic motifs which I, personally – as both a militant supporter of the Palestinians and a strongly identified Jew – found offensive.
| | | | |
| --- | --- | --- | --- |
| Size: 196.31KB | Post Date: Jul 2, 2019 | ← Back to The Utopian Vol. 18.2 - 2019 | |
To place a comment you must apply for an account. After you fill and submit your application to us, our editors will review for approval. Also Blogs posted have to be first be approved by our editors. Please Click Here to Sign In or for our account application form Click Here.