by Christopher Z. Hobson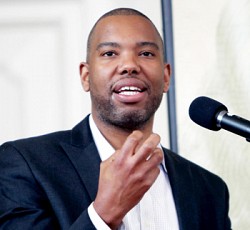 If [Coates] believes in anything, it is the precarious survival of the embattled Black beauty he celebrates in his evocation of becoming a people. And, so far as I can tell from the limited sample of my own students, many of today's Black youth also don't share either redemptive visions of full freedom...or ideas of finding fuller rights over time. Rather,...many seem to believe in a future that will not change in any basic way, in which they and their children will seek to live in dignity and perhaps gain an improved social position—but not real rights—and will remain prepared to fight discrimination, but will never be truly equal or free. So, if this sketch is at all accurate, many feel as Coates also does. It is this fact about the youth, in my eyes, that makes Coates' disenchantment about greater freedom truly significant.
| | | | |
| --- | --- | --- | --- |
| Size: 611.53KB | Post Date: Nov 28, 2022 | ← Back to The Utopian Vol. 16.7 - 2017 | |
To place a comment you must apply for an account. After you fill and submit your application to us, our editors will review for approval. Also Blogs posted have to be first be approved by our editors. Please Click Here to Sign In or for our account application form Click Here.